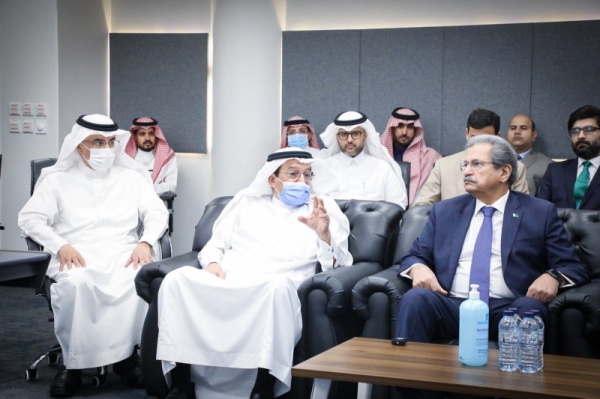 Pakistan's education minister hails success of Saudi e-learning during pandemic
RIYADH — Pakistan's Federal Education and Vocational Training Minister Shafqat Mahmood hailed Saudi Arabia's Vision 2030 during a visit to the School of Satellite Broadcasting (SBS) in Riyadh on Sunday. and its objectives for the development of education, which were reflected in the strategy of the Kingdom. global success of e-learning and distance education, to ensure the sustainability of the educational process during the pandemic.
The Pakistani Minister, who was accompanied by an official delegation, was received by the Minister of Education Dr. Hamad bin Mohammed Al Sheikh.
Mahmood lauded with distinction what SBS has achieved in distance education services, appreciating what the Kingdom has achieved during the pandemic.
He cited the activation of electronic platforms such as "Madrasati" and educational satellite channels, which indicate the willingness of Saudi education to maintain the educational process despite the challenges posed by the coronavirus pandemic.
The minister highlighted the strong and historical ties between Pakistan and the Kingdom, expressing his aspiration to consolidate cooperation between the two countries in the education sector, as well as the chances of benefiting from the Kingdom's experience in education. distance education and online learning during the pandemic. .
The Pakistani official was briefed by the Undersecretary for Public Education, Dr. Mohammed Al-Muqbil, on the satellite broadcast school, broadcast studios, filming and recording mechanism of the lectures, as well than pedagogical supervision of the content.
The General Supervisor of Online Learning and Distance Education, Dr. Ohoud Al-Fares, gave a visual presentation on "Madrasati" and the world records that have been achieved since the start of the pandemic until now. — SPA